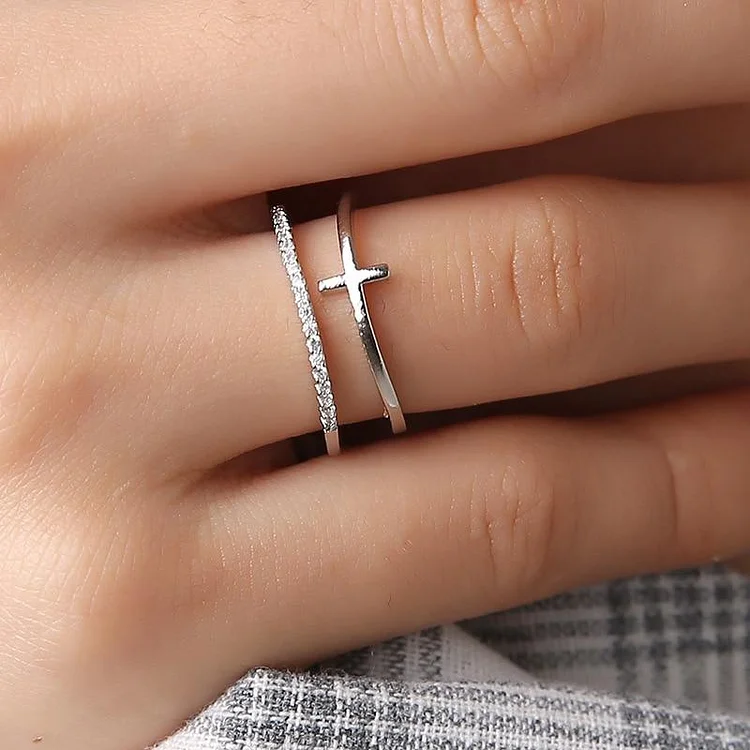 AN ADORABLE RING THAT HAS A POWERFUL MESSAGE OF GOD'S LOVE!
Wouldn't it be amazing to wear a simple and minimalistic ring that has such a POWERFUL meaning? The LOVE Christ had for us is too great to comprehend. The Cross represents the sacrifice that Christ made for us at Calvary. It is where we go to learn how we made be forgiven. And it is where we should stay to learn how to forgive.
The Cross Duo Ring will serve as a constant reminder of the LOVE of Christ. Wearing this ring will inspire and uplift you, by reminding you of the story of Calvary.
Our Cross Duo Ring is beautifully made and will make wearing your faith fashionable. Our Cross Duo Ring is a best-seller! 92% of our customers purchase 2!
                                                 KEY FEATURES
High Quality- Made of gorgeous rhinestones and zinc alloy that is robust and beautiful. Easy to maintain and ideal for long-lasting wear.
Wear Your Faith Fashionably- Be inspired, uplifted, and comforted each time you look at this ring, knowing that it represents God's LOVE for us!
Gift Box Included- Makes a great gift, perfect for birthdays graduations, and any holiday or special occasion
Product Details: One Size, an adjustable fit that is also comfortable to wear! One size fits most ring sizes.
Available in 2 Trending Colors- Rose Gold & Silver!
Our Cross Duo Ring is only available online and is Not sold in stores. We love providing our customers with EXCLUSIVE products. We are currently facing extremely high DEMAND for this product, and stock is running low.